Today's Advised Trades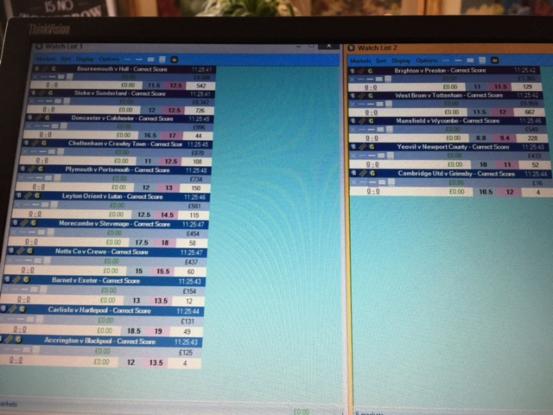 WATCH LIST 1 BACK THE 0-0's ask 1 tick above until 10mins before kick off, then back at the best price.

WATCH LIST 2 LAY THE 0-0s AFTER 10 MINS.

*** NOTE MEMBERSHIP IS FREE (No MONTHLY SUBSCRIPTION) Although a donation via PAYPAL paul@frontline-sports.com will be appreciated when my results are showing consistent results.

Contact me by email paul@frontline-sports.com if you want to receive my selections by email. This way you will receive them before my Twitter posts.

Members Results Updated Monthly

The advised stakes are generated based on stakes not exceeding 5% from our original advised betting starting bank of £2,000 *** Please adjust to suit your own financial position.
From time to time we may add on part of our rolling on profit to our initial starting bank, but this will never exceed 50% of our overall profit and once again this would never exceed 5% of our overall betting bank. For example say we are £200 up after a certain period, we may add 50% of our profit to our initial starting bank of £2,000 this would allow us to advise a new Max bet of £105 But generally we will try and protect our main starting bank at all times.

*** Please note that future results may not produce the same profit as our past results, although please note we also invest in our selections.